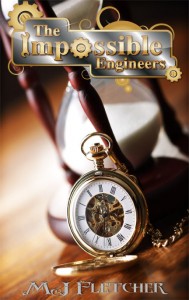 Series
: The Doorknob Society
Genre: Young Adult
Chloe Masters's world changes in a heartbeat and all she did was touch a doorknob.
James Nightshade has been on Chloe's mind since the day she met him. Arrogant and frustrating, she thought she had put him behind her when she chose Michael Slade.
When the secret she is seeking leads to questions about the death of Nightshade's former girlfriend, she has no chose but to bring him into the investigation. A move she will come to regret.
Danger awaits them around every corner as they search for answers. In the end a choice will need to be made, but is Chloe strong enough to make it?
Review: 4 ½ out of 5 stars
This review contains possible spoilers from book 1 – The Doorknob Society
The Impossible Engineers
by M.J. Fletcher is the second book in the Doorknob Society and has eagerly left me wanting to read the next book in this series.
Chloe Masters is an official member of the Doorknob Society, knowing more about her powers and weaving her way through

parallel dimensions with the touch of a doorknob; she is

still as kick-butt, feisty and eager in this book as what she was in the first which I appreciated.
We see the team, consisting of Chloe, Jess, Slade and Nightshade on the hunt for a missing artifact known as the Chronicle page and trying to stay one step ahead of the First Kind; but there was danger, mystery and always someone after them at every turn, it was go go go from the onset which kept the story flowing well, I seemed to breeze through it.
The love interests – we know from book one that Chloe has chosen Michael Slade but I was really miffed at him in this book, James Nightshade is his ever witty self, I adored him and his sarcasm, the banter and obvious affections towards Chloe was really sweet.
We see each of the characters we met in The Doorknob Society developed further in this book and we meet a few more who aren't as endearing (Jasper, Caleb, Talia & Faith). I think my favorite is still Edgar, I absolutely adore his humor and I was pleased to see things progressing between him and Val.
The fantasy world Mr. Fletcher has created is fresh, interesting and unique and filled with many surprises. I love the way each of the societies are explained with great detail and the setting quite vivid, the status at the beginning of each chapter also gives me a little giggle.
Mr. Fletcher has written the most engaging sequel in this gripping series, it is filled with action, mystery and heartache, the ending left me gaping so I am definitely eager to grab hold of The Mapmakers Union.