Going Long
Series
: Waiting on the Sidelines
They fell in love in high school and found their way back to one another despite the odds. But can first loves really be forever? For Reed Johnson, the dream was always football. But then Nolan Lennox took over his heart. Is he willing to give up his first love just to keep his true love? Or will he be too late?
Reed and Nolan's story continues in "Going Long," sequel to "Waiting on the Sidelines."
I really enjoyed the first book in this series, Waiting on the Sidelines so I was eager to dive into the sequel, Going Long to see how Nolan Lennox and Reed Johnson are doing now that they are in a steady relationship.
There was a lot of angst, drama and miscommunications in the first book and it flowed over into this as well with an onslaught of problems in their relationship. I don't want to reveal the details to avoid spoilers but there were a lot of ups and downs which seemed to me to outweigh the good parts, it was drama overload unfortunately.
Reed and Nolan are at separate colleges and commuting to make things work but distance makes it tough, with Reed being drafted to football he is wanting Nolan to make a few changes in her life which isn't an easy decision for her and with his chosen profession it came with a lot of attention and insecurities for Nolan; I really felt for her at times despite Reed only wanting her, this aspect seemed to create unnecessary drama which I found extremely frustrating. Their love story in this book seemed quite unbelievable.
The secondary characters are wonderful and each of them played an important role in the overall story; the friendships were quite strong which I valued and all were developed extremely well.
In Going Long we get both MC's POV's and it worked out well, it explained their actions and reactions which I appreciated. I couldn't fault Ginger Scott's writing which was crisp and engaging; I may have enjoyed this more at a different time but the gamut of emotions didn't appeal to my mood at the time so this may be it's more me rather than the book.
Overall, Going Long was an emotional roller-coaster ride and despite being frustrated on many occasions by the characters behaviours it was entertaining none the less.
An ARC was provided by the author via Netgalley in exchange for my honest review.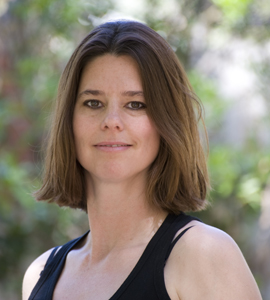 About the author:
Ginger Scott is a writer and journalist from Peoria, Arizona. Her newest novel, "Blindness," will be available in February 2014.
Her debut novel, "Waiting on the Sidelines," is a coming-of-age love story that explores the real heartbreak we all feel as we become adults throughout our high school years. The story follows two characters, Nolan (a Tomboy with a baseball player's name) and Reed (the quarterback she wishes would notice her) as they struggle with peer-pressure, underage drinking, bullying and finding a balance between what your heart wants and what society says you should want -- even if you aren't ready. You can read it, and the sequel, "Going Long," now on Amazon, Barnes & Noble and other e-book outlets.
Scott has been writing and editing for newspapers, magazines and blogs for more than 15 years. She has told the stories of Olympians, politicians, actors, scientists, cowboys, criminals and towns. For more on her and her work, visit her website at
http://www.littlemisswrite.com
.