Release date:
25th February 2014
It takes a while to know who you really are. And when you lose your way, sometimes it's hard to find it again.
Charlie Hudson was on the verge of figuring that out when her dad—the only parent and friend she ever had—died suddenly. She was barely 18, and she was alone. So she went for easy—playing life safe, running away from a home that harbored nothing but bad memories and challenges and loving a man who would take her away from it all forever.
It's funny how chance takes over when you need it most. And that's exactly what brought Cody Carmichael into her life. A former motocross super star, Cody was now happy to be living the blue collar life, spending his days finishing up school and his nights under the hood of some classic car, just trying to keep everything his father taught him alive. Cody and Charlie were living parallel lives, until they finally collided. And the moment he smiled at her, Charlie knew he was the one who would change everything. But was she willing to take the risk?
Cody saw through it all. He saw her—all of her. But would letting him in be too much to take? And if Charlie let herself love him—really love him—could he love her back?
You know, I would buy Blindness for the cover alone; I absolutely love it! The story within held my attention from the first page, I was gripped to my seat wanting to know what would happen even though the story-line is one I'm not usually a fan of at all, actually I tend to avoid it – cheating just isn't for me but for some silly reason I couldn't put the book down.
Charlotte 'Charlie' Hudson hasn't had the easiest life, her mother abandoned her at the age of seven and her cop father was quite distant up until a year before he died when she was 18. Now studying architecture with a part-time internship, Charlie's is dating Trevor
a law student
with their future already mapped out. When Charlie needs to find a place to live, she moves in with her boyfriend and his parents but he is commuting back and forth to Washington and she is more or less left alone.
Charlie thought her life was on track until she meets Cody Carmichael,
a former motocross super star who has also experienced pain and loss; Cody spends his days finishing up at school and his nights repairing cars, he is also
connected to Trevor in some way (I won't reveal what it is to avoid spoilers) - the chemistry and attraction between Charlie and Cody was instantaneous, probably a little too quick, he was Trevor's complete opposite and he understood her, they were perfect together actually but there was one thing in their way - Trevor.
To be honest, I don't think the love triangle worked, Trevor was safe for Charlie and her constant but he never truly got her; I actually thought with his constant travelling he would be the one to stray but he came out of it the good guy. Charlie strung Trevor along but didn't expect Cody to have relationships which didn't make sense, she was jealous, judgmental and could be quite the drama queen and her cheating and betrayal was the worst, there didn't seem to be any remorse; her emotions were lacking and I don't feel there was a complete resolution for them all.
Despite the cheating, I did enjoy the book. Ginger Scott's writing is detailed and even though I didn't fully understand Charlie's actions or reactions, I enjoyed the characters and their back-stories – secondary included.
Thank-you to author, Ginger Scott for providing me with a copy of Blindness to read and review.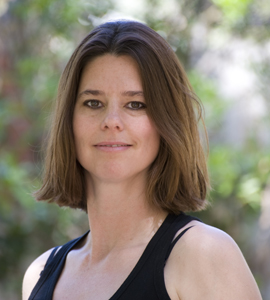 About the author
: Ginger Scott is a writer and journalist from Peoria, Arizona. Her new adult romance, "Blindness," is now available.
Scott is also the author of "Waiting on the Sidelines," a coming-of-age love story that explores the real heartbreak we all feel as we become adults throughout our high school years. The story follows two characters, Nolan (a Tomboy with a baseball player's name) and Reed (the quarterback she wishes would notice her) as they struggle with peer-pressure, underage drinking, bullying and finding a balance between what your heart wants and what society says you should want -- even if you aren't ready. You can read it, and the sequel, "Going Long," now on Amazon, Barnes & Noble and other e-book outlets.
Scott has been writing and editing for newspapers, magazines and blogs for more than 15 years. She has told the stories of Olympians, politicians, actors, scientists, cowboys, criminals and towns. For more on her and her work, visit her website at
http://www.littlemisswrite.com
.