Hi everyone!! thank-you so much for stopping by today.
My WoW's for this week are The Leveller by Julia Durango and Crash by Eve Silver.
Nixy Bauer is a self-made Leveller. Her job? Dragging kids out of virtual reality and back to their parents in the real world. It's normally easy cash, but Nixy's latest mission is fraught with real danger, intrigue, and romance.
Nixy Bauer is used to her classmates being very, very unhappy to see her. After all, she's a bounty hunter in a virtual reality gaming world. Kids in the MEEP, as they call it, play entirely with their minds, while their bodies languish in a sleeplike state on the couch. Irritated parents, looking to wrench their kids back to reality, hire Nixy to jump into the game and retrieve them.
But when the game's billionaire developer loses track of his own son in the MEEP, Nixy is in for the biggest challenge of her bounty-hunting career. Wyn Salvador isn't some lazy kid looking to escape his homework: Wyn does not want to be found. And he's left behind a suicide note. Nixy takes the job but quickly discovers that Wyn's not hiding—he's being held inside the game against his will. But who is holding him captive, and why?
Nixy and Wyn attempt to fight their way out of a mind game unlike any they've encountered, and the battle brings them closer than either could have imagined. But when the whole world is virtual, how can Nixy possibly know if her feelings are real?
Gamers and action fans of all types will dive straight into the MEEP, thanks to Julia Durango's cinematic storytelling. A touch of romance adds some heart to Nixy's vivid, multidimensional journey through Wyn's tricked-out virtual city, and constant twists keep readers flying through to the breathtaking end.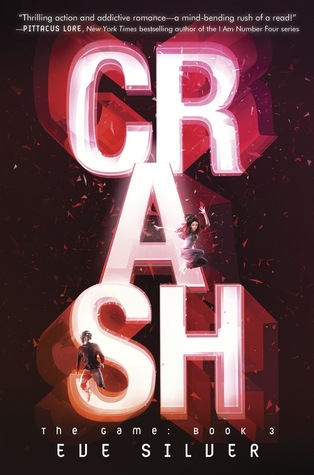 Publisher
: Katherine Tegen Books
Release date:
9th June 2015
A thrilling action/suspense novel for fans of The Fifth Wave about contemporary teens pulled in and out of an alternate reality where battling aliens is more than a game—it's life and death.
Miki's life is falling apart around her. Her dad and best friend are lying in the hospital. The Game is glitching, making missions more frequent and more deadly. And someone close to her is waiting for the right moment to betray her.
Miki feels like she's hanging on by a thread and the only thing keeping her tethered is Jackson's hand in hers. Yet telling him how much she needs him, how much she loves him, feels like the biggest challenge of all. And if Miki really wants the missions to end for everyone, she'll have to let go and be ready to fight when the walls between the Game and reality come crashing down. Because if there's one thing she's learned, it's that she's got a whole lot left to lose.
Crash is the pulse-pounding conclusion to the Game trilogy fans won't want to miss.