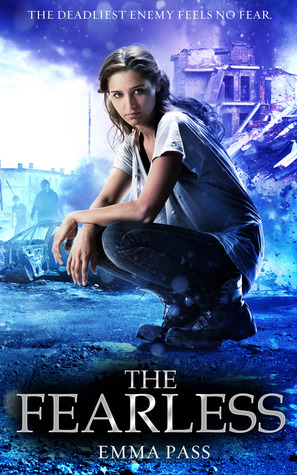 The Fearless
Publisher
:
Random House Children's Publishers
Release date
: 24th April 2014
The Fearless. An army, powered by an incredible new serum that makes each soldier stronger, sharper, faster than their enemies. Intended as a force for good, the serum has a terrible side-effect - anyone who takes it is stripped of all humanity, empathy, love. And as the Fearless sweep through the country, forcing the serum on anyone in their path, society becomes a living nightmare.
Cass remembers the night they passed through her village. Her father was Altered. Her mother died soon after. All Cass has left is her little brother - and when Jori is snatched by the Fearless and taken to their hellish lair, Cass must risk everything to get him back.
Our MC is Cass who is only a young child at the beginning of the book and living a seemingly normal life until The Fearless arrive – a powerful army of soldiers who have been injected with a serum created by scientists trying to find a cure for PTSD which inadvertently turned them into a strong, emotionless lethal zombie type of creatures who now run rampant and pretty much now rule forcing Cass and her family to move offshore to Hope Island in order to survive.
After the death of her mother and father it leaves Cass to look after her brother Jordi and make a life for them on the secluded island. When the Fearless enter the island and kidnap her brother, there is no option but to flee with an intruder who was being kept as a prisoner, using his knowledge to help and to save her brother,
The Fearless
was a fast-paced book and wasn't without action, danger and death; I found the concept to be entertaining and it was great to get the POV's from Cass, Myo who was quite secretive and Sol, Cass's childhood friend but there were a number of plot holes and the world-building I found to be lacking – I needed more information which I'm hoping to get in the sequel but there was a lot of telling rather than showing in this book which became tiresome.
The biggest let-down for me was the weak characterisations; I wasn't a fan of Cass right from the beginning, she came across as naïve being raised on the island believing the outside world was now being run only by silver eyed fearless; she could show strength in one scene only to weaken in the next, I wasn't completely sure where her loyalties were. Sol was also an ass, supposedly in love with Cass, this guy was rash and acted rather than thought, I did like mysterious Myo but I thought he lacked conviction and held back too much.
I did like the bond the book showed between siblings, this aspect was done well there was also a mysterious element that I quite enjoyed you could tell there was something going on with Hope island and with Myo right from the onset it was just working out what it was, the element of surprise and the shock twists and turns kept the story entertaining.
Thank you to Random House Children's Publishers and Netgalley for the opportunity to read and review The Fearless.
About the author
: Emma Pass grew up at an environmental studies centre near London, went to art school in Cornwall and now lives in the north-east Midlands, UK. Her YA dystopian thriller ACID is out from Random House Children's Books on 25th April 2013 (UK), Mondadori on 13th June 2013 (Spain) and Delacorte on 1st April 2014 (US). Another standalone thriller, The Fearless, will follow in the UK in 2014.