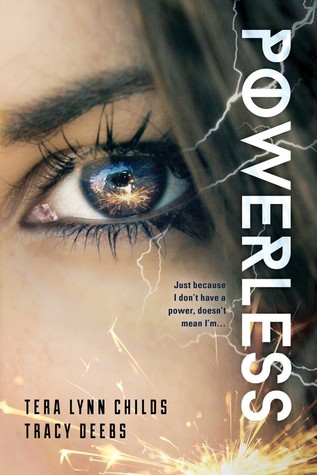 Powerless
Author:
Terra Lynn Childs & Tracy Deebs
Publisher
: Sourcebooks Fire
Release date
: 2nd June 2015
Synopsis (Goodreads)
Kenna is tired of being "normal". The only thing special about her is that she isn't special at all. Which is frustrating in a world of absolutes. Villains, like the one who killed her father, are bad. Heroes, like her mother and best friend, are good. And Kenna, unlike everyone else around her, is completely ordinary— which she hates.

She's secretly working on an experiment that will land her a place among the Heroes, but when a Villain saves her life during a break-in at her lab, Kenna discovers there's a whole lot of gray area when it comes to good and evil and who she can trust.. After all…not all strength comes from superpowers.
This book surprised me, I am not a big fan of superhero teens and at the beginning I felt it was quite juvenile and I had no idea what was going on but as it progressed it became entertaining but it isn't a book I could take seriously at all for some reason.
Our MC is snarky and witty Kenna Swift, a powerless girl and the daughter of a renowned scientist and a long-dead superhero. Kenna was a fabulous kick-butt character that was fearless and wonderful, her inner dialogue was great.
I found the plot to be interesting but there were many unanswered questions - when a group of villains break into the top-secret hero lab and demand information from Kenna, I expected a little more angst and drama but it wasn't to be. The whole secret society aspect was interesting but I don't feel it was explained as well as it could have been.
What was missing from this book was world-building, I needed to know what had happened and what was going on, it wasn't explained - it all just exists. What is the main purpose of the villains/heroes - why are they needed & how come everyone is completely oblivious? I was baffled, there was no saving or heroics or freaky bad behaviour.
The side characters were each interesting but we don't get to know them too well, I would have loved more information about them and their pasts and powers - hopefully in the sequel this will be expanded on.
I enjoyed the writing style, the banter between the characters was an aspect I really enjoyed. The pacing started of slowly but then by the midway point it seemed to flow at a rapid pace, I would have loved it to be evened out to emphasise certain aspects such as the danger.
Powerless
was an entertaining, fun read but It was light-hearted and a book I couldn't take it seriously unfortunately.
Thank you to Sourcebooks Fire for the opportunity to read Powerless.