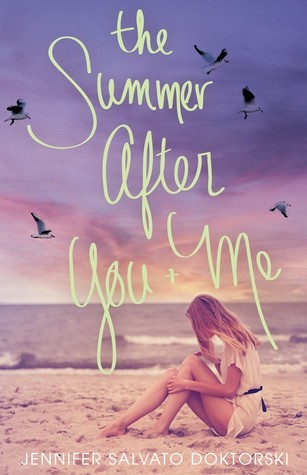 The Summer After You and Me
Author
:
Jennifer Salvato Doktorski
Publisher/Source
: Netgalley/ Sourcebooks Fire
Release date
: 1st May 2015
Will it be a summer of fresh starts or second chances?
For Lucy, the Jersey Shore isn't just the perfect summer escape, it's home. As a local girl, she knows not to get attached to the tourists. They breeze in during Memorial Day weekend, crowding her costal town and stealing moonlit kisses, only to pack up their beach umbrellas and empty promises on Labor Day. Still, she can't help but crush on charming Connor Malloy. His family spends every summer next door, and she longs for their friendship to turn into something deeper.
Then Superstorm Sandy sweeps up the coast, bringing Lucy and Connor together for a few intense hours. Except nothing is the same in the wake of the storm, and Lucy is left to pick up the pieces of her broken heart and her broken home. Time may heal all wounds, but with Memorial Day approaching and Connor returning, Lucy's summer is sure to be filled with fireworks.
The Summer After You and Me
by Jennifer Salvato Doktorski appealed to me when I first read the synopsis,

it

is a young adult contemporary romance about a seaside town on the jersey shore.
Our MC is Lucia 'Lucy', a sweet, kind and compassionate character who lives in the Jersey Shore, the storyline takes place after the events of Super storm Sandy which left much destruction in its wake. Lucy and her friends have a no getting attached rule when it comes to the local tourists or the families who reside there during summer break, but things happened during the storm with her long-term crush and next door neighbour Connor Molloy that she can't forget despite now dating her best friend, Andrew.
Lucy was a realistic character and maybe I am a tad old for this type of story but I felt she over-reacted in some instances; yes I would be mad about what happened at prom with Andrew but I feel she was looking for an easy way out in some instances rather than facing responsibility. I also felt her friends treatment of her after the prom event was a little too much, her brother Liam was a complete ass – there was too much immaturity and drama at times.
Connor was also a little mysterious, I didn't like him initially because of his man-whore reputation but I came to enjoy his interactions with Lucy and the way he looked out for her, their shared moments were the parts I really enjoyed, despite having a girlfriend you could see how much he respected Lucy and wanted to make things right.
Lucy's passion for marine biology was an aspect I enjoyed; I found the paragraphs at the beginning of each chapter to be interesting. I also found the tidbits about the repairs and re-building of the area after the storm to be intriguing; the devastation was heart-breaking and the aftermath and how the residents were dealing was an aspect you don't often hear about. It wasn't easy on Lucy's family and how they were still trying to fix everything as well as keep the money flowing.
The Summer After You and Me
was an entertaining read overall and was written well, unfortunately I felt it was a little immature at times and my interest tapered – I think this book also would have benefitted from a prologue and dual POVs.
Thank you to Sourcebooks Fire for the opportunity to read and review
The Summer After You and Me.
About the author:
Jennifer Salvato Doktorski is the author of the YA novels, How My Summer Went Up in Flames (Simon Pulse 2013), Famous Last Words (Henry Holt and Co., 2013), which was a Bank Street College Best Children's Book of the Year, and the forthcoming The Summer After You and Me (Sourcebooks Fire, May 2015).
Her first paid writing gig was as an editorial assistant for the North Jersey Herald & News, where, in addition to developing a life-long passion for coffee and news, she wrote obituaries for eight months. She also worked as a speech writer, bank teller, ghostwriter, bookkeeper in a lampshade factory, pet shop clerk, and music zine editor.
She lives with her family in New Jersey and spends her summers "down the shore," where she dreams of taking surfing lessons and observes sea life while keeping her toes in the sand.