Publisher:
Delacorte Pres
Release date:
9th June 2015
Synopsis (Goodreads):
Sixteen-year-old Nina Kane should be worrying about her immortal soul, but she's too busy trying to actually survive. Her town's population has been decimated by soul-consuming demons, and souls are in short supply. Watching over her younger sister, Mellie, and scraping together food and money are all that matters. The two of them are a family. They gave up on their deadbeat mom a long time ago.
When Nina discovers that Mellie is keeping a secret that threatens their very existence, she'll do anything to protect her. Because in New Temperance, sins are prosecuted as crimes by the brutal Church and its army of black-robed exorcists. And Mellie's sin has put her in serious trouble.
To keep them both alive, Nina will need to trust Finn, a fugitive with deep green eyes who has already saved her life once and who might just be an exorcist. But what kind of exorcist wears a hoodie?
Wanted by the Church and hunted by dark forces, Nina knows she can't survive on her own. She needs Finn and his group of rogue friends just as much as they need her.
Review: 4 ½ out of 5 stars
I was a little hesitant about starting The Stars Never Rise, I really enjoyed Rachel Vincent's Soul Screamer series but her Shifters series was a BIG miss for me so I was a little reluctant but I am pleased to say this book is a fabulous start to the series and I can't wait to read the next installment.
Our MC is sixteen year-old Nina Kane, living in New Temperance her main focus is to provide for her sister by keeping food on the table and a roof over their heads by doing whatever it takes while their deadbeat mother is seemingly oblivious to what is going on. Nina was a character I instantly liked and sympathised with, things weren't easy for her but she remained strong and determined.
When Melanie, Nina's fifteen year-old sister announces something that will cause them a lot of drama because it is considered a sin, Nina will do anything possible to keep her safe. Now w
anted by the Church and hunted by dark robed exorcists, Nina meets a group of teens

eager to help her transition in to her new abilities and tell her the truth about what she is and also about the life she had come to believe in.
The world-building was creative and unique, it's a world that has been
ruined by soul-eating demons and degenerates, their lives are now strictly ruled by the Church, this book was heavy on the religion which I usually don't enjoy but it was a pivotal aspect in this book. It was a fast-paced read that kept me flipping the pages eager for more.
I think what makes this book wonderful is how Rachel Vincent doesn't forget to make the secondary characters stand out just as much as Nina. I was so fascinated and quite baffled by Finn and enjoyed the bond shared between Devi, Maddock, Reese and Grayson. I still have so many questions!
Overall, The Stars Never Rise is wonderfully written, it's a dark blend of Dystopian and Urban Fantasy that worked really well. With a great plot line and fantastically drawn characters it makes it all the more enjoyable.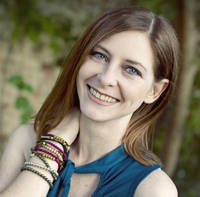 About the author
: A resident of Oklahoma, Rachel Vincent has a BA in English and an overactive imagination, and consistently finds the latter to be more practical. She shares her workspace with two black cats (Kaci and Nyx) and her # 1 fan. Rachel is older than she looks-seriously-and younger than she feels, but remains convinced that for every day she spends writing, one more day will be added to her lifespan.