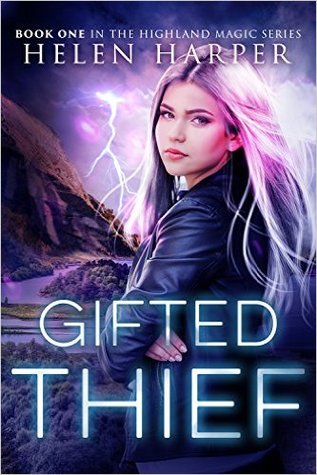 Release date
: 29th January 2016
Synopsis (Goodreads)
Orphan. Runaway. Thief.
Since the moment I was ripped from my mother's womb, I've been an outcast amongst my own kind. The Sidhe might possess magical Gifts, unbelievable wealth and unfathomable power but I don't want a thing to do with them. I ran away from their lands in the Highlands of Scotland when I was eleven years old and I've never looked back. I don't need a Clan. I've got my own family of highly skilled thieves who mean more to me than any Sidhe ever could.
Unfortunately for me, the playboy heir to the Moncrieffe Clan has something I desperately need. To get it back, I'm going to have to plunge myself back into that world, no matter what the consequences may be. I suppose it's just as well I have sense of humour. I think I'm going to need it.
Review: 3 ½ out of 5 stars
I stumbled on Gifted Thief whilst browsing through Amazon, I have never read anything prior by Helen Harper but everything has ticked my boxes so far, except the romance but I am hoping that improves as the series progresses.
Our MC is Integrity, a Sidhe who fled the highlands of Scotland and a life of hell when she was eleven years old. She has lived as a human and has abandoned her heritage and former life to become a skilled thief. Unfortunately, when a job goes wrong Integrity is forced to deal with her past and involve herself with the Sidhe in order to save her friends.
Integrity is the sort of character I adore! Witty, strong and fiercely independent; she looks after herself without needing to rely on anyone. She has a close group of friends, Speck, Brochan, Lexie and Taylor that she considers her family and who also have her back. She wasn't a fighter, she abhors violence but she seemed to be able to talk her way out of any situation, she was treated terribly by many but she always stood strong, I also found her jokes really amusing and lightened the storyline.
Byron Moncrieff has a reputation as a player, he is well respected amongst the Sidhe but he holds a lot back. Integrity has had a crush on him for some time but I found him to be a bit sly initially; as the book progressed I liked him a little more but I still can't fully trust his motives especially since he is the reason Integrity is now having to play nice with people that despise her existence,
The world building was done well but I would have like further clarification on the clans, clanless and humans and how they each live side by side peacefully; the setting was also lacking in imagery for me. The plot flowed at a decent pace; I enjoyed Integrity's family backstory, she is the last member of the Adair clan; her father wiping out everyone and more or less erasing them from the history books but as Integrity finds out there is more to the story than what people are letting on, there is deceit, mystery and some pretty huge secrets being kept; there is also magical gifts and a prophecy that we are yet to learn more about.
The romance or possibility of a romance was a letdown, there was chemistry between Integrity and Byron but she fell between the sheets so willy nilly with his friend which didn't make sense, it was a sex scene that I feel was included just so that it was there. I'm not quite sure if they will end up together, especially since Byron is meant to be with someone else for family reasons but I hope if they do it is done tastefully.
I can't fail to mention Bob the Genie who is now with Integrity until she makes her three wishes; he is hilarious! I love his page time.
Gifted Thief
is a nice start to the Highland Magic series, it is an Urban Fantasy that ticked most boxes for me but could have done with a little more editing, there were a number of mistakes but nothing that couldn't be overlooked. I'm looking forward to learning more about Clan Adair and the fascinating characters in the next book, Honour Bound.
About the author
:
Scottish native
Helen Harper
is the author of the hugely popular
Blood Destiny
series, as well as the gritty urban fantasy
Bo Blackman
books and the romantic
Olympiana
novels. A self-confessed cat lady with an over-active imagination, she spends her time lost in fantastical worlds filled with kickass heroines, intricate legends and lots and lots of dangerous excitement.