REMEMBER YESTERDAY
Series: Forget Tomorrow #2
Published: Entangled Teen
Release date: 4th October 2016
Synopsis
:
Don't miss the exciting sequel to the New York Times bestselling book Forget Tomorrow!
Sixteen-year-old Jessa Stone is the most valuable citizen in Eden City. Her psychic abilities could lead to significant scientific discoveries—if only she'd let TechRA study her. But after they kidnapped and experimented on her as a child, cooperating with the scientists is the last thing Jessa would do.
But when she discovers the past isn't what she assumed, Jessa must join forces with budding scientist Tanner Callahan to rectify a fatal mistake made ten years ago. She'll do anything to change the past and save her sister—even if it means aligning with the enemy she swore to defeat.
Review: 4.5 out of 5 stars
Remember Yesterday
is the second instalment in author Pintip Dunn's Forget Tomorrow series
and
I was a little iffy about reading it as it is told from
Sixteen-year-old Jessa Stone's character rather than her twin sister, Callie Stone's POV and ten years in the future; I don't tend to enjoy series with character changes but thank goodness this worked out well.
It is hard to review this without giving spoilers for the first book so my apologies for some evasiveness. The first book ending was a huge shock and set the scene; Remember Yesterday follows through with some interesting revelations which are a game changer for TechRa and the citizens of Eden City, we receive answers to questions from the first book and we learn more about Jessa and her interesting ability.
Jessa was TechRa's study subject when she was just a small child so she holds a huge grudge against them but when a vision shows a glimpse of the future and a rebellion against future memories and a possible genocide she aligns herself with the enemy hurting those closest to her.
Jessa was a strong, noble character and despite not always agreeing with her choices I could understand why. Working with her enemy, scientist Tanner Callahan she'll do anything in her power to change the past and save Callie.
I thoroughly enjoyed the enemies to more romance between Jessa and Tanner who was the creator of Future memories, they had more in common than they originally thought and ended up working really well as a team. Tanner was a wonderfully fleshed out character and my heart hurt for what he had endured.
Pintip Dunn's world-building is phenomenal, the plot flowed at a fast pace and the characters are well-developed and likeable except of course for Chairwoman Dresden who was pure evil! There were twists and turns aplenty and many heart tugging moments, I am not usually a fan of time travel but it worked well in this book.
Pintip Dunn's writing cannot be faulted, I enjoyed every engrossing moment and I can't wait to read the next book in the series, Seize Today which is Olivia Dresden and Jessa's best friend Ryder Russell's book.
Thanks to Entangled Teen via Netgalley for providing an advance copy of this book in exchange for my honest review.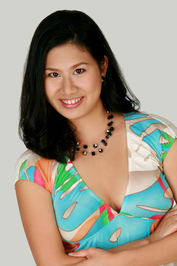 ABOUT THE AUTHOR
:
Pintip Dunn is a New York Times bestselling author of YA fiction. She graduated from Harvard University, magna cum laude, with an A.B. in English Literature and Language. She received her J.D. at Yale Law School, where she was an editor of the YALE LAW JOURNAL.
Pintip's novel, FORGET TOMORROW, won the RWA RITA® for Best First Book. It is also a finalist for the Grand Prix de l'Imaginaire, the Japanese Sakura Medal, the MASL Truman Award, and the Tome Society IT list. In addition, THE DARKEST LIE was nominated for a Romantic Times Reviewers' Choice Award.
Her other books include REMEMBER YESTERDAY, SEIZE TODAY, and GIRL ON THE VERGE.
She lives with her husband and children in Maryland.