I am so pleased to be able to welcome Jen Frederick to the blog today; Jen is the author of the amazing Woodlands series which is one of my fave New Adult series.
Today, Jen is sharing with us her Woodlands journey.
Books in order: (can be read as standalone)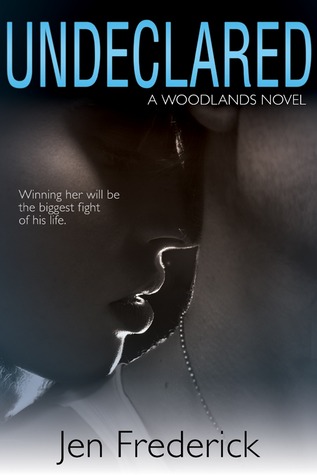 Undeclared (2013) - Amazon
For four years, Grace Sullivan wrote to a Marine she never met, and fell in love. But when his deployment ended, so did the letters. Ever since that day, Grace has been coasting, academically and emotionally. The one thing she's decided? No way is Noah Jackson — or any man — ever going to break her heart again.
Noah has always known exactly what he wants out of life. Success. Stability. Control. That's why he joined the Marines and that's why he's fighting his way — literally — through college. Now that he's got the rest of his life on track, he has one last conquest: Grace Sullivan. But since he was the one who stopped writing, he knows that winning her back will be his biggest battle yet.
Unspoken (2013)
- Amazon
Whore. Slut. Typhoid Mary.
I've been called all these at Central College. One drunken night, one act of irresponsible behavior, and my reputation was ruined. Guys labeled me as easy and girls shied away. To cope, I stayed away from Central social life and away from Central men, so why is it that my new biology lab partner is so irresistible to me?
He's everything I shouldn't want. A former Marine involved in illegal fighting with a quick trigger temper and an easy smile for all the women. His fists aren't the danger to me, though, it's his charm. He's sliding his way into my heart and I'm afraid that he's going to be the one to break me.
Impulsive. Unthinking. Hot tempered.
I allow instinct to rule my behavior. If it feels good, do it, has been my motto because if I spend too much time thinking, I'll begin to remember exactly where I came from. At Central College, I've got fighting and I've got women and I thought I was satisfied until I met her.
She's everything I didn't realize I wanted and the more time I spend with her, the more I want her. But she's been hurt too much in the past and I don't want to be the one to break her. I know I should walk away, but I just can't.
Unraveled (2014)
- Amazon
Twenty-five-year-old Sgt. Gray Phillips is at a crossroads in his life: stay in the Marine Corps or get out and learn to be a civilian? He's got forty-five days of leave to make up his mind but the people in his life aren't making the decision any easier. His dad wants him to get out; his grandfather wants him to stay in. And his growing feelings for Sam Anderson are wreaking havoc with his heart…and his mind. He believes relationships get ruined when a Marine goes on deployment. So now he's got an even harder decision to make: take a chance on Sam or leave love behind and give his all to the Marines.
Twenty-two year old Samantha Anderson lost her husband to an IED in Afghanistan just two months after their vows. Two years later, Sam is full of regrets—that she didn't move with her husband to Alaska; that she allowed her friends to drift away; that she hasn't taken many chances in life. Now, she's met Gray and taking a risk on this Marine could be her one opportunity to feel alive and in love again. But how can she risk her heart on another military man who could share the same tragic fate as her husband?
Unrequited (January 2015)
I fell in love with New Adult sometime in the summer of 2012. I didn't even know it wasn't until I was missing in my life until I began reading about young college students falling in love and I find their place in the world. As I was reading the stories I realized I had of my own to tell.
The time in your life following graduation from high school is a shocking period. You are expected to know everything but know nothing. You are expected to be responsible for managing loans, rent checks, utility bills, nights out with your friends with very little prior experience. You are expected to make lifelong decisions about your future in the space of less time than it takes bake a cake for that magical 18th birthday.
Is it no wonder that it is a period of time in which individuals are fraught with anxiety and high emotion? I think not.
I remember the lazy days of college very well where I was convinced that I belonged with no one and fit in no place. Yet it was during those years of searching both outside myself and inside, that I learned who I wanted to be even if it took years after to become that person.
When I sat down to tell the story of the five young men who live in the posh development called The Woodlands, I wanted to capture that time in all of our lives where we are both uncertain but tremendously brave; where we are both longing for love but afraid of it too; where we are open minded to change and open hearted to others; where we form lifelong passions and goals that shape our futures forever.
In fiction, we authors are allowed to create our own stories. Individuals magically learned their life lessons and perform that magical act of growing up within the space of 90,000 words or less. They are transformed by the people that they encounter and the experiences they endure.
While their life is microwaved, or heated up in a short amount of time as opposed to the crockpot slow cooking of our real lives, there is something both tragic and hopeful about reading the loves and lives of these newly minted adults.
Jen Frederick lives with her husband, child, and one rambunctious dog. She's been reading stories all her life but never imagined writing one of her own. Jen loves to hear from readers so drop her a line at
jen@jenfrederick.com
.