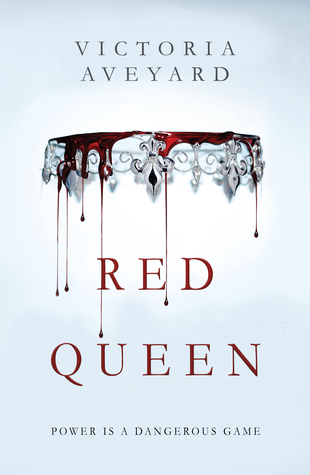 Red Queen
Release date
: 10th February 2015
A thrilling new fantasy trilogy for fans of DIVERGENT and THE HUNGER GAMES.
The poverty stricken Reds are commoners, living under the rule of the Silvers, elite warriors with god-like powers.
To Mare Barrow, a 17-year-old Red girl from The Stilts, it looks like nothing will ever change.
Mare finds herself working in the Silver Palace, at the centre of
those she hates the most. She quickly discovers that, despite her red blood, she possesses a deadly power of her own. One that threatens to destroy Silver control.
But power is a dangerous game. And in this world divided by blood, who will win?
The few reviews I had seen for Red Queen prior to reading it were high in praise so I started this one expecting greatness and I'm pleased to say it didn't fail to disappoint.
Our MC is Mare Barrow who lives in a world divided by blood – silver and red; she is from a family of poorly reds who are destined to serve the elite silvers that are differentiated by their supernatural abilities. The concept is extremely unique and I liked the details we are given about the different classes.
Mare is a skilled thief and an extremely likeable heroine, she was strong and determined with a cunning and stubborn personality; when her best friend is conscripted into the army she does everything she can to win his freedom, but when her own unusual ability is discovered it brings out a whole new saga and a plan by the royals to arrange a marriage between Mare and their son so the knowledge that reds have powers isn't revealed – she becomes a lost silver princess, her time at the palace is also an opportunity for Mare to secretly plot with the Scarlet Guard who lead the red rebellion.
There are a number of mind blowing plot twists and turns I never expected, there were secrets, political conspiracies and betrayals and it all came together nicely, the world-building is beautifully imagined with an ending that left me gaping. The action had me sitting on the edge of my seat and the smidgeon of romance was well written but certainly wasn't at the forefront of the story.
All of the characters are fascinating and written to perfection; each played a pivotal role in the overall story, I had no idea who could be trusted and in the end I was spot on. Cal and Maven had me intrigued!
Red Queen
is a fabulously thrilling YA Fantasy, it all came together perfectly and I'm more than eager to read the next book in the series.
Thank you to Harper Teen via Edelweiss for the opportunity to read and review Red Queen.
About the author:
I'm a screenwriter/YA author who likes books and lists. This site is the nexus of my universe.
My book RED QUEEN will be published Winter 2015 from HarperTeen at HarperCollins. I'm repped by the incomparable Suzie Townsend at New Leaf Literary & Media, Inc.
The genres I'm into include YA, Fantasy, Historical, Adventure, Apocalyptic - if people are dying, I'm buying.