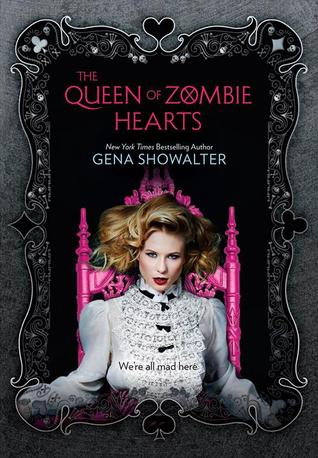 The Queen of Zombie Hearts
Series
:
White Rabbit Chronicles
Release
date: 30th September 2014
Publisher
: Harlequin Teen
Synopsis (Goodreads)
I have a plan.
We'll either destroy them for good, or they'll destroy us.
Either way, only one of us is walking away.
In the stunning conclusion to the wildly popular White Rabbit Chronicles, Alice "Ali" Bell thinks the worst is behind her. She's ready to take the next step with boyfriend Cole Holland, the leader of the zombie slayers…until Anima Industries, the agency controlling the zombies, launches a sneak attack, killing four of her friends. It's then she realizes that humans can be more dangerous than monsters…and the worst has only begun.
As the surviving slayers prepare for war, Ali discovers she, too, can control the zombies…and she isn't the girl she thought she was. She's connected to the woman responsible for killing—and turning—Cole's mother. How can their relationship endure? As secrets come to light, and more slayers are taken or killed, Ali will fight harder than ever to bring down Anima—even sacrificing her own life for those she loves.
The Queen of Zombie Hearts
is the third book in the White Rabbit Chronicles by Gena Showalter and begins not long after where Through the Zombie Glass ends. I have never been a huge fan of zombie books at all but this has always been one of my favourite YA series with wonderful plot developments, great world-building, suspense, adventure and some really memorable characters. I did have a few minor problems with the final instalment though.
It is hard to write this review without giving away some pretty big spoilers, this book started off with a bang, the characters couldn't seem to catch a break, it was go go go and there was action aplenty! but to balance it out we have the romance between Ali and Cole which I have always enjoyed but this did take centre stage in this book and the zombie slaying wasn't at the forefront which was a tad disappointing, added to that was the drama which I felt was overdone and not needed.
Ali is still snarky and quirky but at times she was a little immature and whiny, she really grated on my nerves on occasion, she was worrying needlessly about petty things rather than focussing on the real problem – Anima Industries and the zombies, there were a few revelations about her which did come as a shock. Cole continues to be a great leader, he progresses as a character and I liked the responsible way he dealt with certain situations.
The storyline continued to keep us guessing, there were many surprise twists and turns I didn't anticipate, there was death, betrayal and some intense scenes as Ali and the slayers try to bring down Anima – these are the parts I really found myself enjoying and the ending was done extremely well. The secondary characters are memorable and play an important role in the overall story; this book did have a number of deaths, some that were complete shocks.
Gena Showalter is a wonderful story-teller and despite my few issues, I felt this was a satisfying conclusion to the White Rabbit Chronicles.
"Roses are red, violets are blue, I have five fingers, the middle one is for you."
"I'm usually a big fan of sexual tension, but this is like an X-rated kindergarten class, with two little jerks crushing on each other, both too stupid to admit it out loud."
"I know girls want what they can't have, and they want to be the special exception responsible for taming the boy no one else can, even though they probably won't be."
About the author:
Gena Showalter is the New York Times and USA Today bestselling author of over thirty books in paranormal and contemporary romances, as well as young adult novels. Her series include White Rabbit Chronicles, Angels of the Dark, Otherworld Assassins, Lords of the Underworld, Alien Huntress and Intertwined.
Her novels have appeared in Cosmopolitan Magazine, and Seventeen Magazine, and have been translated all over the world. The critics have called her books "sizzling page-turners" and "utterly spellbinding stories", while Showalter herself has been called "a star on the rise".