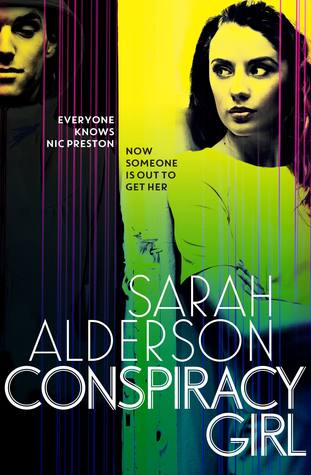 Conspiracy Girl
Publisher/Source
: Simon & Schuster Australia
Release date
: 12th February 2015
Everybody knows about the Cooper Killings – the Bel Air home invasion that rocked the nation.
There was only one survivor - a sixteen year-old girl.
And though the killers were caught they walked free.
Now eighteen, Nic Preston - the girl who survived - is trying hard to rebuild her life. She's security conscious to the point of paranoia and her only friend is a French Mastiff bulldog, but she's making progress. She's started college in New York and has even begun dating.
But then one night her apartment is broken into and the life Nic's worked so hard to create is shattered in an instant.
Finn Carter - hacker, rule breaker, player – is the last person Nic ever wants to see again. He's the reason her mother's killers walked free from court. But as the people hunting her close in, Nic has to accept that her best and possibly only chance of staying alive is by keeping close to Finn and learning to trust the person she's sworn to hate.
Fleeing across a snowbound New England, frantically trying to uncover the motive behind the murders, Nic and Finn come to realize the conspiracy is bigger than they could ever have suspected. But the closer they get to the truth and the closer they get to each other, the greater the danger becomes.
To survive she has to stay close to him.
To keep her safe he has to keep his distance.
I am a huge fan of Sarah Alderson and I have been so intrigued by Conspiracy Girl since I first heard about it so as soon as I received a copy (Thank you S&S Australia) I instantly devoured it – real life was put on hold and it was a one day read, I loved every moment of this thrilling book.
Our MC is Nic Preston, her life was changed forever at the age of sixteen when she became the sole survivor of a break-in where her mother and step-sister were both brutally murdered. The case was high profile,

everybody knew about the Cooper Killings

and she has taken extreme measures to keep a low profile and safe, moving from LA to NY and installing a state of the art security system as well as buying a trained dog as a companion to allay some of her fears but her life turns to turmoil when her apartment is broken in to an attempt is again made on her life. Thrown into protective custody which was also breached she ends up at the home of Finn Carter, professional

hacker, rule breaker and player; he is also the reason her family's killers walked free from court so their reunion isn't exactly pleasant.
Nic was a little high maintenance initially – understandably so but she came across as an ingrate, as the story progresses you get an understanding of what she has had to endure and why she is the way she is and I was able to sypathise with her and like her as a character. Finn was amazing! I absolutely adored him and I enjoyed learning about his interesting past; the way he put himself constantly in harm's way for Nic was extremely noble, he didn't need to help her but he put his own life on hold to help her out and protect her. Their slow to burn chemistry and the progression of their relationship was done very well.
There were many frantic, edge of your seat moments; the action was aplenty and the bad guys were relentless but I was clueless about who they were and what their purpose was – trying to work out the conspiracy kept me flipping the pages; I enjoyed every moment of this thrill-ride!
Sarah Alderson kept us guessing right to the end of the book; her writing gripped me and the many surprise twists and turns kept things exciting; I loved the storyline, the sweet budding romance and the characters.
I highly recommend Conspiracy Girl to fans of thrillers with action and romance to balance it all out. This is my favourite Sarah Alderson book to date, a must read!
Thank you to Simon & Schuster Australia for the opportunity to read and review Conspiracy Girl.
About the author
:
Having spent most of her life in London, Sarah quit her job in the non profit sector in 2009 and took off on a round the world trip with her husband and princess-obsessed daughter on a mission to find a new place to call home. After several months in India, Singapore, Australia and the US, they settled in Bali where Sarah now spends her days writing by the pool and trying to machete open coconuts without severing a limb.

She finished her first novel, Hunting Lila (winner of the Kingston Book Award), just before they left the UK, wrote the sequel on the beach in India and had signed a two book deal with Simon & Schuster by the time they had reached Bali.

A third book, Fated, about a teenage demon slayer, was published in January 2012.

The Sound, a thriller romance set in Nantucket, was published in August 2013 and this was followed by the critically acclaimed Out of Control in May 2014.



She also writes New Adult romance for Pan Macmillan (UK) / Simon & Schuster (US) under the pen name Mila Gray.

You can find Sarah on facebook and at

www.sarahalderson.com

or follow her blog at

www.canwelivhere.com