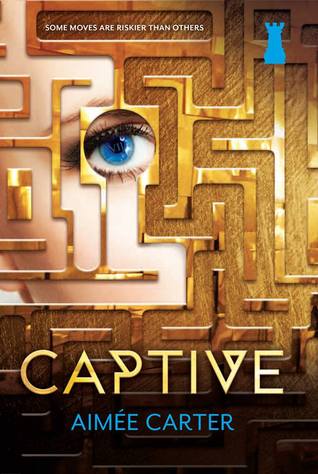 Series
:
Blackcoat Rebellion
Release
date
: 25th
November 2014
For the past two months, Kitty Doe's life has been a lie. Forced to impersonate the Prime Minister's niece, her frustration grows as her trust in her fake fiancé cracks, her real boyfriend is forbidden and the Blackcoats keep her in the dark more than ever.
But in the midst of discovering that her role in the Hart family may not be as coincidental as she thought, she's accused of treason and is forced to face her greatest fear: Elsewhere. A prison where no one can escape.
As one shocking revelation leads to the next, Kitty learns the hard way that she can trust no one, not even the people she thought were on her side. With her back against the wall, Kitty wants to believe she'll do whatever it takes to support the rebellion she believes in—but is she prepared to pay the ultimate price?
Contains possible spoilers from the first book
Captive
is the second book in the

Blackcoat Rebellion

series and begins where

Pawn

left off.
Everything was certainly kicked up a notch in

Captive

– the intense action, betrayals and surprise plot twists had my mind spinning but I loved each and every moment.
Kitty's reckless behaviour drove me crazy in the first book and it is probably worse in

Captive

unfortunately but in saying this she is a generous character who thinks of others before herself, especially when it came to Benjy who I have come to really like but for the first part of the book I still felt he was a bit of a mystery and we didn't know enough about him, I also still feel they are suited more as friends and even though Knox could be a complete ass and was extremely frustrating, I preferred him as the love interest for some silly reason.
As we know, in the first book Kitty had been masked to become Lila Hart and the decisions she has had to make in order to survive have been extremely difficult with a lot of sacrifices needing to be made. Her world is now more hostile than what we knew it in

Pawn

and as a result she ends up where she was most afraid of – Elsewhere, which was brutal.
The plot is fast-paced with some wonderful action sequences, the villain is written to perfection and we are introduced to a wonderful secondary cast who each play a pivotal role in the overall story.
Captive
started off slowly for me but it soon picked up and delivered action and surprising plot twists, leaving me flipping the pages wanting to know what would happen. The world-building is original but I still feel there are certain aspects which are lacking when it comes to the details of how it all came about, it was hinted at and unless I have missed something I felt it was lacking.
Overall,

Captive

delivered an action-packed thrill ride that I was almost unwilling to let go of when it ended. I can't wait to read the final book in the series

Queen

which has an anticipated 2015 release date.
Thank you to Harlequin Teen via Netgalley for the opportunity to read and review

Captive.
About the author
: Aimée Carter was born and raised in Michigan, where she currently resides. She is the author of several series, including The Goddess Test series, The Blackcoat Rebellion series, and the Simon Thorn series.


QUEEN (#3 of The Blackcoat Rebellion) will be released on November 24th, 2015.

SIMON THORN AND THE WOLF'S DEN (#1 of the Simon Thorn series, Bloomsbury) will be released February 2, 2016.