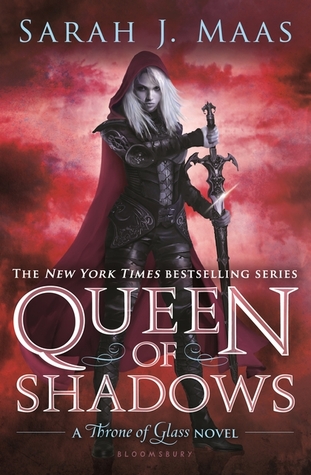 Queen of Shadows
Series: Throne of Glass #4
Release date: 1st September 2015
The queen has returned.
Everyone Celaena Sardothien loves has been taken from her. But she's at last returned to the empire—for vengeance, to rescue her once-glorious kingdom, and to confront the shadows of her past . . .
She has embraced her identity as Aelin Galathynius, Queen of Terrasen. But before she can reclaim her throne, she must fight.
She will fight for her cousin, a warrior prepared to die for her. She will fight for her friend, a young man trapped in an unspeakable prison. And she will fight for her people, enslaved to a brutal king and awaiting their lost queen's triumphant return.
The fourth volume in the

New York Times

bestselling series contrinues Celaena's epic journey and builds to a passionate, agonizing crescendo that might just shatter her world.
Queen of Shadow's
is the fourth book in the Throne of Glass series and begins where Heir of Fire ends.
My thoughts are a jumble at the moment! I was a little hesitant about starting this book; I'm a huge romance fan and it seemed to falter for me in the last book and the witchy parts were really turning me off but this book was absolutely amazing! My fave so far of 2015.
There were so many oh my god, gasping moments; I am not one to normally freak out when something surprising happens in a book but there was so much going on that I had quite a few late nights trying to get through all 600+ pages of awesome and I'm thrilled where Sarah J Maas left off.
We know Celaena/Aelin has returned

to Adarlan to rescue her cousin Aedion, put an end to the king and his alliance with the demon Valg

, rescue her best friend Dorian from demon possession, and to confront the King of Assassins, Arobynn Hamel. By this stage in the series we know how fabulous and kick-butt she is and in Queen of Shadows she shows us once again how conniving, lethal and shifty she can be but there was also a softness and vulnerability about her that was quite endearing and I always enjoy the 'sweeter' side of her.
This book was non-stop thrilling action, there were some pretty graphic gory scenes; the plot was fast paced and there were moments of betrayal, secrets, plenty of planning and plotting and a sweet budding romance that balanced it all out perfectly. I loved every moment of it!
Told in numerous POV's it was great to get insight into all of our old favourites as well as the introduction of a few new characters; Lysandra was an amazing character, courageous and strong and the perfect friend for Aelin; she surprised me on numerous occasions. Nesryn was wonderful and Elide has me curious. But WTF has happened to Chaol! I loved this guy but from the last book to a certain point in this I actually despised him, I was disappointed. Dorian broke my heart and I loved the relationship between Aelin and Aedion. We also see a different side to Rowan and I absolutely loved him!

I must admit I was initially against a Rowan/Aelin relationship but it is looking to be pretty perfect.
Speaking of Manon, the witchy chapters have always bored me and I tended to skip them and admittedly up until she met Aelin I wasn't really interested in what was happening with the witches but after this point I was hooked and I can't wait to see what Sarah J Maas has in store for us; their purpose made more sense and they are tied to the overall storyline perfectly.
Sarah J Maas is a wonderful story-teller, her writing is absolutely brilliant and the world that she has created is masterful! This series continues to get better and better, there are still two books left in the series and I can't wait to see what happens.
Overall, Queen of Shadows is an incredible installment in the Throne of Glass series.