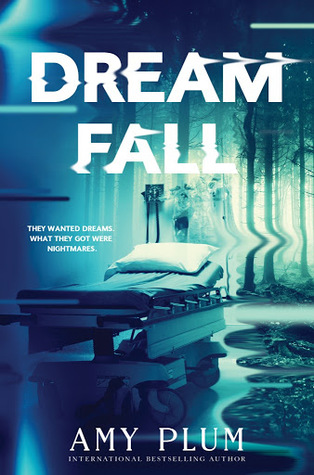 Dreamfall
Genre
: Young adult / Thrillers and Suspense
Release
date: 2nd May 2017
Synopsis (Goodreads
) Cata Cordova suffers from such debilitating insomnia that she agreed to take part in an experimental new procedure. She thought things couldn't get any worse...but she was terribly wrong.
Soon after the experiment begins, there's a malfunction with the lab equipment, and Cata and six other teen patients are plunged into a shared dreamworld with no memory of how they got there. Even worse, they come to the chilling realization that they are trapped in a place where their worst nightmares have come to life. Hunted by creatures from their darkest imaginations and tormented by secrets they'd rather keep buried, Cata and the others will be forced to band together to face their biggest fears. And if they can't find a way to defeat their dreams, they will never wake up.
Review: 2 ½ out of 5 stars
To be honest, I expected to like this book a lot more than I did as I have been a big fan of Amy Plum and her books for some time now.
Dreamfall
is a book about seven teenagers between the ages of 13-19 years of age who are taking part in an experiment at a world leading sleep disorder clinic to help with their chronic insomnia with the use of electroconvulsive technology which will hopefully cure them all.
Our main narrators are Cata who has severe insomnia and PTSD, Fergus suffers from insomnia stemming from narcolepsy and Jaime is a pre-med student who is observing the experiment, the story is told from each of their POV's.
Whilst in the experiment, the participants find themselves stuck in a group dream where they are forced to encounter their worst nightmares; this was a result of an earthquake. I found Jaime's POV to be the most interesting during this time as he/she is witnessing it from the outside in the lab, I enjoyed this aspect more than those within the dream.
I really enjoyed the scientific side but found myself skimming the dream sequences as I found them quite repetitive; the teens were hunted by creatures and tormented by secrets; they were forced to face their worst fears, I didn't think there would ever be release for them.
What let this book down for me mostly was the lack of characterisation and details we are given about the characters we meet, we don't truly get to know them as people, it was more as subjects, I also would have liked more of a 'scary' plot.
Amy Plums writing style is gripping and engaging and I
found the concept to be extremely fascinating and unique but unfortunately it didn't truly wow me; the twist at the end has left me excited to continue with the series but up until that point I wouldn't have continued.
The next instalment, Neverwake has an expected May 2018 release date.
Thank you to HarperTeen via Edelweiss for the opportunity to read and review Dreamfall.
About the author
: Amy Plum is the international bestselling author of the DIE FOR ME series (Indie Next List pick, Romance Times top pick, and recipient of a starred review from School Library Journal). The books have been translated into thirteen foreign languages. The trilogy is accompanied by two eNovellas entitled DIE FOR HER and DIE ONCE MORE and a compendium entitled INSIDE THE WORLD OF DIE FOR ME.

DREAMFALL, the first book of her YA horror duology, will be released by HarperTeen in summer 2017, with the second book, NEVERWAKE publishing in summer 2018. In the new books, a radical experiment to cure chronic insomnia goes wrong, and its seven teenage test subjects are plunged into a shared coma populated by one another's nightmares; those who die in the dream will also die in real life.

Amy's action/adventure/magic duology, AFTER THE END and UNTIL THE BEGINNING, received starred reviews from Publishers Weekly, 4 1/2 stars from RT Book Reviews, and enthusiastic reviews from Kirkus, USA Today, ALA Booklist and School Library Journal.

After being raised in Birmingham, Alabama, in a rather restrictive environment, AMY PLUM escaped to Chicago to an even more restrictive environment at a university that expelled people for dancing. (And where she was called to the dean's office for "wearing too much black".) After all of that restrictiveness, she was forced to run far far away, specifically to Paris, France, where she only wore black and danced all she wanted.

After five years in Paris, she ventured to London, where she got an M.A. in Medieval Art History, specializing in Early Sienese Painting (1260-1348) mainly because it promised almost no hope of finding a paying job afterward.

Amy managed to find work in the world of art and antiques in New York. But after almost a decade of high-pressure lifestyle in the Big Apple, she swapped her American city for a French village of 1300 inhabitants.

After signing with HarperCollins for the DIE FOR ME series, Amy left her job as an English professor at Tours University to write full-time. She now lives in Paris with her two kids and her black lab, Oberon.

She is a huge fan of Edward Gorey and Maira Kalman (and collects both of their books/art), as well as David Sedaris, Amadeo Modigliani, and Ira Glass.

Check out videos and extras from Amy at

Revenant Central

.