OMEGA
Publisher
: Entangled Teen
Genre
: Young Adult / Sci-Fi
Release
date: 1st August 2017
Synopsis
: The second book in the Infinity time travel series is full of action, romance, and an intricately designed roller coaster plot.
One mistake can change everything. Ashlyn Calvert finds that out the hard way when a bad decision leads to the death of her best friend, Noah Anderson.
Only Noah isn't really gone. Thanks to his parents' company, the Infinity Division, there is a version of him skipping from one dimension to another, set on revenge for the death of his sister, Kori. When a chance encounter brings him face-to-face with Ash, he's determined to resist the magnetic pull he's felt for her time and time again. Because falling for Ash puts his mission in danger.
But there's more going on in Ash's alternate universe than either of them knows: a mysterious project called Omega. A conspiracy spanning multiple Earths and revolving around none other than Ash. Its creators would do anything to keep Omega secret…
Anything.
Review: 3.5 out of 5 stars
I am such a huge fan of Jus Accardo and despite having a few issues with Infinity, the first book in The Infinity Division series I was still quite eager to read the sequel, Omega and see how this creative world would develop.
The first instalment, Infinity followed Kori Anderson and Cade Granger; they make regular appearances throughout this book but it was told in the POV's of Noah Anderson and Ashlyn 'Ash' Calvert who I thought were more interesting narrators.
The time travelling plot was fast paced as we see the characters still following villain Dylan Granger in his quest to kill every Kori in every world they stop at, the trio eventually land in a technology advanced world where the criminals are transported to another dimension.
I adored Ash, she was feisty and fantastic and her back story was quite sad, we didn't learn much about her in the first book so it was nice to meet her; Noah is stubborn, loyal and an all-round decent guy! I loved his interactions with Ash as well as his friendship with Cade; his relationship with Kori still seemed tense but you can see the growing respect that they have for one another.
We meet a few more characters, Ava/Sera and G and I'm unsure of their purpose as yet and the effect that they will have in the future.
Omega
is a nice continuation to the series, and despite the plot not changing much from the first book it was an adventure and entertaining none the less and the world building was more in-depth in this book. It was fast paced, action packed and leaves you wanting more. This book was a big improvement on Infinity for me.
Thank you to Entangled Teen via Netgalley for the opportunity to read this book.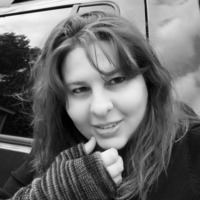 About the author
:
JUS ACCARDO spent her childhood reading and learning to cook. Determined to follow in her grandfather's footsteps as a chef, she applied and was accepted to the Culinary Institute of America. But at the last minute, she realized her true path lay with fiction, not food.
Jus is the bestselling author of the popular Denazen series from Entangled publishing, as well as the Darker Agency series, and the New Adult series, The Eternal Balance. A native New Yorker, she lives in the middle of nowhere with her husband, three dogs, and sometimes guard bear, Oswald.