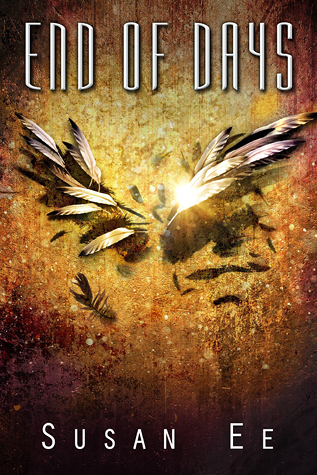 End of Days
Publisher
/ Source: Hachette Books Australia
Release
date: 12 May 2015
Synopsis
:
End of Days
is the explosive conclusion to Susan Ee's bestselling Penryn & the End of Days trilogy.
After a daring escape from the angels, Penryn and Raffe are on the run. They're both desperate to find a doctor who can reverse the twisted changes inflicted by the angels on Raffe and Penryn's sister. As they set off in search of answers, a startling revelation about Raffe's past unleashes dark forces that threaten them all.
When the angels release an apocalyptic nightmare onto humans, both sides are set on a path toward war. As unlikely alliances form and strategies shift, who will emerge victorious? Forced to pick sides in the fight for control of the earthly realm, Raffe and Penryn must choose: Their own kind, or each other?
Contains possible spoilers from the Angelfall and World After
End of Days
would have to be one of my most anticipated reads for this year. Angel books are definitely hit or miss but I was absolutely captivated by the first two books in this series, Angelfall and World After with the wonderful characters and fabulous world-building so I dove straight into this as soon as I received my copy.
End of Days
picks up right where World After left off, Penryn is now with Raffe, Paige and damaged Beliel and on their way to Angel Island with Paige's locusts, but it's a short stay on the island with the arrival of Hellhounds and the threat of an Angel/Human war.
Seventeen year-old Penryn is as snarky, witty as ever, she is one of my favourite heroines with her kick-butt awesomeness and her dedication and protectiveness of those she loves, in particular her sister Paige who has endured so much and continues to do so; the characters in this series are truly amazing and beautifully developed. Raffe was noticeably absent in World After so I am really pleased that he played a larger part and we were given many swoon worthy moments but his mind is still set on leading the Angels, returning home and not getting involved with a human. The dialogue between Penryn and Raffe and their chemistry was wonderful, I loved their stolen kissy moments, they were really sweet but I couldn't help but hope for more.
Speaking of Raffe, his sarcasm, strength and surprising devotion to Penryn left me gushing, his main focus was to keep her safe and to rid himself of demon wings and reattach his angel wings so that he could reclaim his place amongst his own kind.
The secondary characters each played a pivotal part in this book, especially Penryn's sister despite her changes; my heart broke for her and what she has been through which was pretty horrific, Uriel and Beliel are still unbelievably cruel but we get more background information into Beliel which I quite enjoyed. Dee and Dum were also great characters and Penryn's mum continues to be a solid support despite her kooky ways.
The plot was engaging and filled with revelations I didn't expect, the angels are fierce with their plans to take over the world; the element of surprise is one of the things I have appreciated, you never quite knew in which direction the author would take things which I liked but in the end it all came together nicely. There were some intense moments with brutal action sequences, they were written very well and Ms. Ee certainly didn't hold back on the details; the world is so dark and bleak.
Susan Ee's story-telling is mesmerising, I was enthralled by the events which took place, her dialogue and the banter is witty and the characters are strong, resilient and admirable. This is most definitely one of my favourite angel series and I am saddened to see it all end despite being satisfied with the conclusion.
Overall, End of Days is an impressive finale, filled with angel politics, unnatural abominations, violence and some wonderful action-scenes; I can't wait to read more books written by Susan Ee.
Thank you to Hachette Books Australia for the opportunity to read and review End of Days.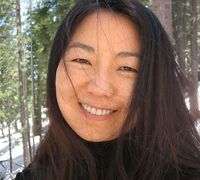 About the author
:
Susan Ee is a USA Today bestselling author of the Penryn & the End of Days trilogy, ANGELFALL, WORLD AFTER, and END OF DAYS. Her books have been translated into over twenty languages, and her short films have played at major festivals. She used to be a lawyer but loves being a writer because it allows her imagination to bust out and go feral.
Sign up to hear about her next book at
www.susanee.com
or follow her on Twitter @Susan_Ee.