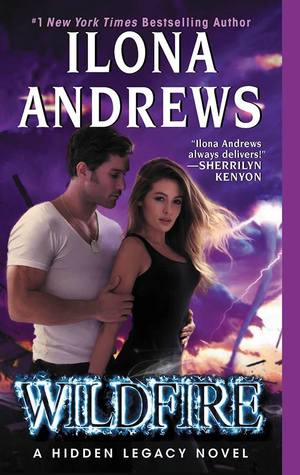 Wildfire
Genre
: Paranormal Romance / UF
Release
date: 25th July 2017
Synopsis (Goodreads
):
Just when Nevada Baylor has finally come to accept the depths of her magical powers, she also realizes she's fallen in love. Connor "Mad" Rogan is in many ways her equal when it comes to magic, but she's completely out of her elements when it comes to her feelings for him. To make matters more complicated, an old flame comes back into Rogan's life…

Rogan knows there's nothing between him and his ex-fiance, Rynda Sherwood. But as Nevada begins to learn more about her past, her power, and her potential future, he knows she will be faced with choices she never dreamed of and the promise of a life spent without him.

As Nevada and Rogan race to discover the whereabouts of Rynda's kidnapped husband and are forced to confront Nevada's grandmother, who may or may not have evil motives, these two people must decide if they can trust in each other or allow everything to go up in smoke.
Contains possible spoilers for the previous book
The Hidden Legacy series has fast become one of my very favourites! Wildfire, is the third book in the series and follows on where White Hot left off and is probably the best book that I have read so far this year!
In White Hot Nevada learned that her Grandmother, Victoria Tremaine is the Prime of her house and will do anything to capture Nevada and her sisters to keep House Tremaine intact; Nevada's only options are to join with her crazy grandmother or to start her own house so in Wildfire we see the beginning of House Baylor emerge.
We also have Mad Rogan's ex Rynda Sherwood recruiting Nevada and the Baylor agency to locate her missing husband Brian, this aspect was exciting and I was eager to see what was to come of the Sherwood's because this woman drove me absolutely crazy and how Nevada held her cool was beyond me!
There is also a secret conspiracy with certain houses trying to destabilize Houston so a powerful leader name Caesar can rule. There was so much going on but thankfully the pacing flowed well and nothing was overlooked or rushed, everything was done with purpose and blended the storyline beautifully.
The characters are nothing short of amazing (animals Zeus and Teddy included), there has been so much character growth and each of them have played a pivotal role in the overall story. The relationship between them all is amazing! I love them all and how they interact; seeing Nevada become a well-respected part of Rogan's powerful team has been wonderful to watch. They have all faced challenges but they have come out stronger from it.
The romance between Nevada and Connor is one of my favourites; I absolutely adore their banter, their at times crazy interactions; the way he not only protects her but also supports her leaves me swooning; he doesn't always agree with her choices but he backs up her decisions and vice versa. They complement each other well, both in their strengths and their weaknesses,
I cannot fault the writing style, the fast-paced plot or amazing world-building; it is all perfect.
Overall, Wildfire is a highly satisfying, thrilling and intense page-turner; full of kick-butt characters and fantastic dialogue as well as an amazingly strong heroine and a phenomenal alpha male, I can't recommend this book and series highly enough.
About the author
: Ilona Andrews is the pseudonym for a husband-and-wife writing team. Ilona is a native-born Russian and Gordon is a former communications sergeant in the U.S. Army. Contrary to popular belief, Gordon was never an intelligence officer with a license to kill, and Ilona was never the mysterious Russian spy who seduced him. They met in college, in English Composition 101, where Ilona got a better grade. (Gordon is still sore about that.)
Gordon and Ilona currently reside in Oregon with their two children, three dogs and a cat. They have co-authored two series, the bestselling urban fantasy of Kate Daniels and romantic urban fantasy of The Edge.