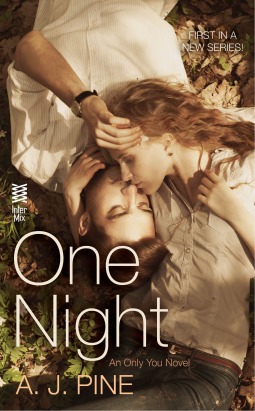 One Night
Release
date: 21st April 2015
Synopsis
(

Goodreads

):
When she lost it all, Jess decided to cope by living a lie.
But you can't keep on pretending forever…
Twenty-one-year-old Jess used to have everything—a loyal best friend, a boyfriend she loved, and a future that was right on track. But in a single night, her whole world changed.
Now, Jess lives for the impersonal connection of drunken hook-ups and to-go coffee cups in the morning. All she needs is one night to pretend everything is fine…until she meets Adam.
Thanks to a sports injury, gorgeous, charming basketball star Adam Carson is stuck in physical therapy at the hospital where Jess interns—giving her the perfect opportunity to see his sweet, considerate nature and making her realize that maybe she does want something more.
But while Adam might be the best thing that's happened to Jess in a long time, letting him past her carefully constructed walls means letting him know what happened...and why he'd never want her for more than one night.
Review: 3.5 out of 5 stars
One Night
was pleasant surprise, with an engaging storyline and relatable characters I was hooked from the very first page.




Our MC is twenty-one year old Jess, studying to be a Physical Therapist she is struggling to move on from a painful incident from her past, she has regrets and she knows pain but she's also the type of person you'd love as a friend with her kindness, humour and compassion.





Adam Carson was the perfect boyfriend material, smexy, understanding and accepting; he has struggles of his own with an injury which will shorten his basketball career - I adored his kindness and patience and his devotion to Jess, she could be hard work at times but he stood by her side. The chemistry between these characters was wonderful; they couldn't have been more perfect for one another. All of the secondary characters played a key role in this book, the interactions between them all were done very well, and I especially loved Zoe and Regan.



I adored Jess and Adam's initial meeting, she is interning at the hospital where he is receiving PT, there was a lot of witty banter and cheeky grins shared but she still held herself back, not believing herself worthy of anyone and keeping all relationships

impersonal and only having drunken hook-ups, her past was emotional and her feelings understandable

.
The mystery behind what had happened with Jess kept me flicking the pages, I had an inkling of what it was and I was right but it was painful to read about none the less. I am pleased the author dealt with Jess's issues with kindness and compassion and medication, therapy and the necessary help was mentioned throughout without brushing her issues aside.
I enjoyed A.J Pine's writing, there were a few instances where I had to read back what had happened and I also felt a few things could have been explored further such as Adam's ex Kim – I still didn't understand the purpose of her making an appearance without anything coming of it – I was waiting for a bit of confrontation but there was nothing.


Overall, I enjoyed One Night; it did have a few YA Cliches but it was written well and kept me entertained.
About the author:
AJ Pine writes stories to break readers' hearts, but don't worry—she'll mend them with a happily ever after. As an English teacher and a librarian, AJ has always surrounded herself with books. All her favorites have one big commonality–romance. Naturally, her books have the same. When she's not writing, she's of course reading. Then there's online shopping (everything from groceries to shoes) and, of course, a tiny bit of TV where she nourishes her undying love of vampires, from Eric Northman to the Salvatore brothers. And in the midst of all of this, you'll also find her hanging with her family in the Chicago burbs.
AJ's debut NA novel, IF ONLY, is out now with Entangled's Embrace line, with a companion novel, WHAT IF, releasing December 8, 2014. Watch for a new NA series, ONE NIGHT and ONE LIFE, with Penguin/Intermix in 2015.