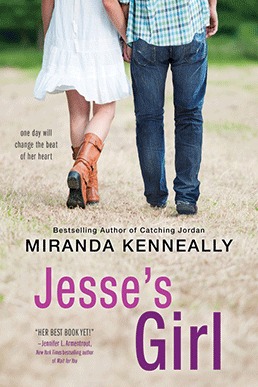 Jesse's Girl
Author:
Miranda Kenneally
Publisher
: Sourcebooks Fire
Release date
: 7th July 2015
Everyone at Hundred Oaks High knows that career mentoring day is a joke. So when Maya Henry said she wanted to be a rock star, she never imagined she'd get to shadow *the* Jesse Scott, Nashville's teen idol.
But spending the day with Jesse is far from a dream come true. He's as gorgeous as his music, but seeing all that he's accomplished is just a reminder of everything Maya's lost: her trust, her boyfriend, their band, and any chance to play the music she craves. Not to mention that Jesse's pushy and opinionated. He made it on his own, and he thinks Maya's playing back up to other people's dreams. Does she have what it takes to follow her heart—and go solo?
Jesse's Girl
by Miranda Kenneally is another wonderful addition to the Hundred Oaks series and just what I needed at this time, a light-hearted, quick and easy contemporary YA romance.
The story centres around seventeen year-old Maya Henry who wants to play guitar and perform professionally so when the principal arranges for her to shadow his nephew, famous country singer Jesse Scott it is a dream come true. Maya was such a fun, lively and relatable character who I adored from the onset; she's the sort of girl you'd love as a best friend.
Jesse Scott won a talent contest at a young age and sky-rocketed to fame from then, he's Nashville's teen idol but his family and personal life has suffered as a consequence. He's a gorgeous loner who came across as someone with a chip on his shoulder but as we get to know him we find out what a sweetheart he was.
I adored Maya and Jesse's initial meeting, it wasn't what Maya was expecting, Jesse was quite the jerk but as they got to spend some time together and Jesse was able to teach Maya a thing or two their friendship to more was really sweet and it was nice to not have any major unnecessary complications and drama, they talked about things and moved on. I loved how both of these characters wanted to succeed and were willing to do what it took to achieve their dream.
I thoroughly enjoyed Maya's family dynamics in this book, they were the sweetest, Maya is Sam from Catching Jordan's younger sister so it was nice to see him and Jordan play a role in this book. Maya's best friend Dave was wonderful as was Dr Salter/Uncle Bob, Nate was an ass.
Jesse's Girl is a light-hearted and fun read, Miranda Kenneally's writing is engaging and her story-lines enjoyable and drama-free without unnecessary clichés and stereotypes which I love she also gives us a sex-positive portrayal that wasn't over the top or written in just for the hell of it.
One small gripe – the cover! Maya is a punkish grungy girl; it would have been nice to see this reflected on the cover with her purple cowboy boots and Jesse with his red ones.
Thank you to Sourcebooks Fire for the opportunity to read and review Jesse's Girl.
About the author:
Growing up in Tennessee, Miranda Kenneally dreamed of becoming an Atlanta Brave, a country singer (cliché!), or a UN interpreter. Instead she writes, and works for the State Department in Washington, D.C., where George W. Bush once used her shoulder as an armrest. Miranda loves Twitter, Star Trek and her husband.