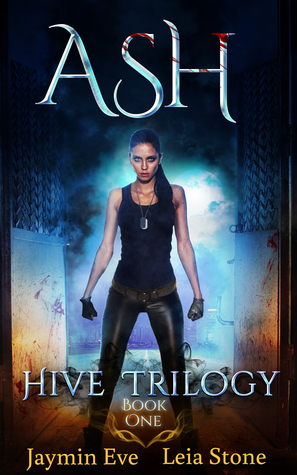 Ash
Author
: Jaymin Eva and Leia Stone
Release
date: 15th December 2015
Synopsis (Goodreads)
Are you an Ash?
*Increased stamina
*Lack of appetite
*Anger outbursts
*Insatiable thirst
*Beauty & Strength
*Male
Call the hotline if these symptoms come on suddenly!
Turns out Charlie Bennet was all of those things except the last. Don't let the name fool you, Charlie was all woman and she wanted nothing to do with the ash … until the day she found out she was one.
It all started when infected bats bit a small group of humans and created what are now called vampires. Then, the male vampires knocked up some female humans and the result was a gorgeous race of all male ash. Superhuman freaks that had looks to kill.
Charlie is the first female ash, aka unicorn of the Hive – the gated compound in Portland that the humans have designated to isolate vampires and ash from society.
Problem? The Hive is full and only a select few will be allowed to live there. To live at all, really. If Charlie wants to earn the right to become a citizen of the Hive, she will have to survive the culling – a series of fights to the death. And guess what? Just because she's a girl doesn't mean she'll get special treatment.
Good thing there's Ryder, the mysterious lead ash enforcer, who seems to always have her back. But when secrets bubble to the surface, it will take more than one guy to save her.
I haven't read a book about vampires in such a long time and I found myself completely absorbed in the storyline and the world that Jaymin Eva and Leia Stone have created. Ash is the first book in the Hive trilogy.
Our MC is Charlie Bennett, a regular girl and someone that didn't have any Ash traits:
*Increased stamina
*Lack of appetite
*Anger outbursts
*Insatiable thirst
*Beauty & Strength
*Male
Charlie was fabulous! I enjoyed her sass, loyalty and her determination; she was a weakling and untrained amongst a group of Ash but she was determined to survive in this male dominated strange world. The initial stages for Charlie wasn't easy, she was thrust into a place that she didn't exactly like and was then forced to fight in the culling for her survival, it was tough on her, especially considering her unique blood but she was helped out by Ryder, the sexy lead Ash enforcer.
An Ash is a Vampire/Human hybrid, it all started when

infected bats bit a small group of humans and created vampires. The male vampires then got a few females pregnant and the result was a gorgeous race of all male ash; it was an interesting journey learning more about Charlie and how she came to be the only female Ash and I'm excited to learn more.
The plot is steadily paced and the world-building despite not being unique is quite strong, we aren't inundated with information but we learn along with Charlie.
I adored the secondary characters, Ryder was a mystery but I adored how he looked out for Charlie, we do get a small amount of romance and I am excited to see it progress. Charlie's new BFF at the Hive is Jayden and his loyalty was amazing, I also thought their banter bought a bit of humour to the story. We also slowly get to know the sexy six; the enforcers that stand by and protect the others; I am looking forward to getting to know them a little more. Lucas was a bit of a mystery to me and I was unsure of his sincerity.
Jaymin Eve and Leia Stone have written a page-turner, the flow was seamless and the plot engaging and thoroughly entertaining. I am really looking forward to reading the next books in this series.
Overall, entertaining, witty and completely engrossing. I highly recommend Ash by Jaymin Eva and Leia Stone.
About the authors
: Jaymin Eve

is the USA Today Bestselling author of the Walker Saga, a young adult fantasy series, Hive Trilogy, a young adult urban fantasy, as well as the Supernatural Prison series. She loves surrounding herself with the best things in life: her two girls, a good book and chocolate.
Living on the beautiful Gold Coast in Australia, the family loves spending lots of time on the beach. And travelling as frequently as possible.
When Jaymin isn't trying to wrangle two daughters, a puppy and her husband, you will find her hiding in a corner desperately to write her stories (without little fingers pressing random keys). She asks forgiveness if you notice the occasional sskkkkssjs appearing in her books, her children are proud of their contribution.
Leia Stone
is the USA TODAY bestselling author of the Matefinder series which is optioned for flim, and the Hive Trilogy. She lives in Portland, OR with her husband, two kids and her dog. When she is not chasing around her twin son and daughter, or writing, she has her nose shoved in a book. She wrote her first book when she was 23 years old. Keep reading, live with purpose. Freeworld!