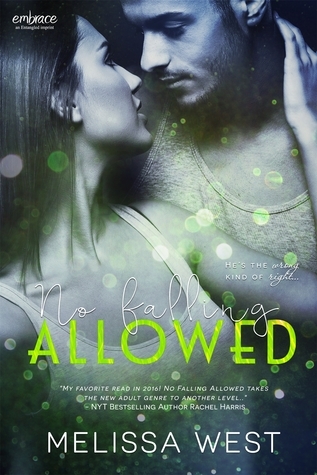 No Falling Allowed
Series
: No Kissing Allowed
Release
date: 18th July 2016
Publisher
: Entangled Embrace
Synopsis (Goodreads)
My life just went South…
Twenty-four hours. That's how long it took my life to flip upside down.
Wake up in bed alone after the best night of my life? Check.
Get fired instead of the promised promotion? Check.
Wealthy parents cut me off when I refuse to follow their path for my life? Check.
Now I'm in Cricket Creek, SC—a place where no New Yorker belongs—disowned and broke, with a new job that I can't mess up. Oh yeah, and staring at my one-night stand, who happens to be the complete opposite of my type.
Southern.
Cocky.
Bartender.
Noah Hunter never should have made it back to my apartment in NYC, and I definitely shouldn't be in his small town. But fate had another plan. Or a horrible sense of humor.
Who knew Mr. Wrong could feel so right…
Review: 4 ½ out of 5 stars
No Falling Allowed
was a one day read for me, I thoroughly enjoyed every moment; it was a feel good, romantic read that had me hooked from the first page. Melissa West is an auto-buy, her books never fail to disappoint.
I loved our MC Grace in the previous book No Kissing Allowed so I was excited to learn that she'd have her own book and paired with smexy bartender Noah Hunter, it was a match made in heaven despite their differences.
Grace is a character that I adored, she is fiercely independent despite her family background and wanted nothing more than to follow her own dreams rather than be forced into a career in her father's successful business.
Within a short period of time Grace has lost her job, was cut off by her parents and had the best one night stand with a guy who left her without even a note! She was on a bit of a downer until a job opportunity came her way and she ended up in the small town of Cricket Creek and in front of her one night stand, Noah Hunter.
Noah and Grace couldn't have been more different, they were from different worlds but they connected and he understood her; his life also wasn't easy, I won't go into his backstory but I ended up loving their connection and his sexy southern charm.
The setting of Cricket Creek was great! I enjoyed the amazing cast of characters there; they were a nosy bunch but they were close and bought some humor to the story.
This is another fabulous book from Melissa West, her characters and story-lines always draw me in and leave me anxious for more. I am super excited for her next book.
Thank you Entangled Embrace via Netgalley for the opportunity to read and review this title.
Melissa West writes heartfelt Southern romance and YA sci-fi romance,
all with lots of kissing. Because who doesn't like kissing?. She lives outside of Atlanta, GA with her husband and two daughters and spends most of her time writing, reading, or fueling her coffee addiction.
She holds a B.A. in Communication Studies and a M.S. in Graphic Communication, both from Clemson University.